2 WEEK PUPPY BOARD AND TRAINING
Our 2-week Puppy Training Program is a board and train program. We'll work with your puppy to provide our obedience and behavior training, while staying at our facility. It's a convenient and all-inclusive option for busy families who love their new puppies, but need help teaching them obedience.
The Puppy Training Program offers a solid foundation in puppy obedience training, while working to correct common behavior issues that puppies tend to struggle with.
SOCIALIZATION OPPORTUNITIES
While staying at our facilities, all puppies will receive a ton of socialization time and pack experiences with other puppies and mature dogs. They will learn proper social skills around dogs and humans.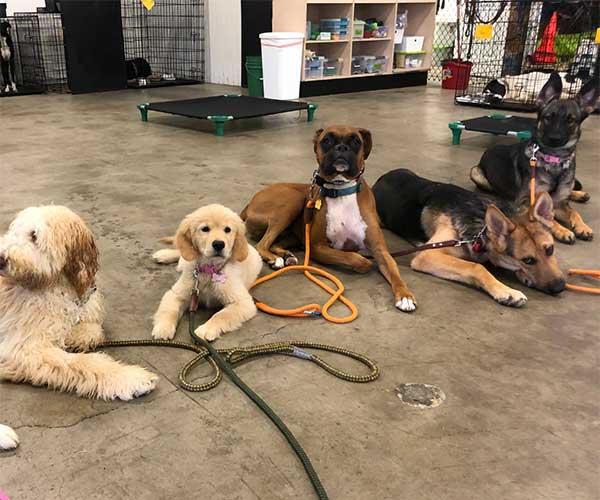 Skills Learned in the PUPPY TRAINING PrograM
We'll work with your puppy to teach it all of the basic obedience skills, including:
Place Command
Walk politely with you on a leash
Sit "stay"
Down "stay"
Recall: "come" or "here" when called
Crate / kennel training
BEHAVIOR CORRECTIONS
We will also focus on correcting common behavior issues, including:
Jumping, nipping and mouthing
Establishing a schedule
Help with a potty training schedule
Having proper social skills around other dogs and humans
Impulse control
Waiting for food
Social time with other puppies and mature dogs
OFF-LEASH TRAINING
If you are interested in off-leash conditioning, we can train your puppy with an e-collar. This option is a case-by-case basis, as we can only use e-collars if the puppy is mature enough. Not all puppies are ready for this type of training.
FOLLOW-UP LESSONS
Once the 2-week training is complete, we invite all of our puppy graduates and their owners back for two free follow up lessons. At these lessons, we'll continue working with you and your puppy on proper skills and training. You'll learn how to reinforce good behaviors and better communicate with your puppy.
Is PUPPY TRAINING PROGRAM right for my dog?
This program is specifically designed for puppies and does involve leaving your puppy with us at our facility for a full 14 days. We offer other programs for mature dogs, dogs who need behavior modification, as well as day training, private lessons, and group classes. Learn more about our other programs to find the best fit for you and your dog.
Ready to join the pack or want more information? Sign up your puppy today by submitting our training request form.