2-week obedience training
Dog Board and Train Program
2-Week Dog Board and Train
With our 2-week Dog Board and Train Program, we'll work with your dog to provide our obedience and behavior training while staying at our facility. It's a convenient and all-inclusive dog training option for busy families who love their dogs (but need them to learn some manners).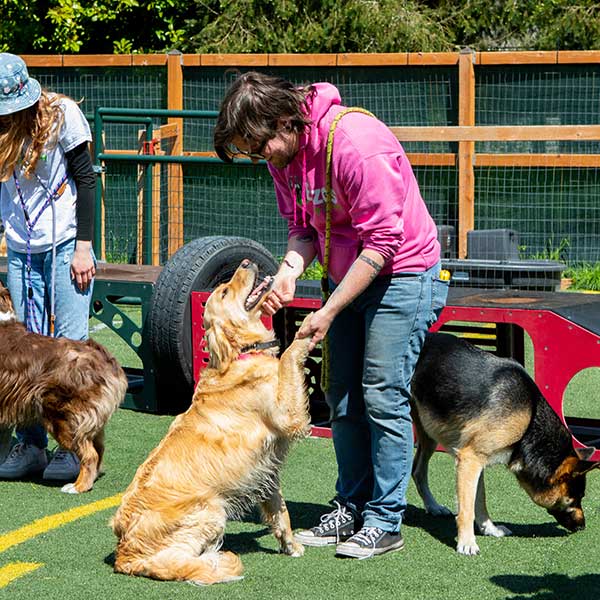 A Solid Foundation for Obedience
The intensive Dog Board and Train Program gives your dog a solid obedience foundation for training, and it saves you and your family the trouble of starting from scratch. Staying at our facility for training allows you the time and space to properly set up your home for your dog, once trained. It also gives your dog the opportunity to learn while interacting with multiple professional dog trainers and other dogs of all sizes and ages.
Our caring team will cover all of the dog training basics with your pup. Plus, while staying with us, your dog will receive tons of fun socialization time and pack experiences. At Enzo's, dogs get to learn, run, and play!
Skills Learned in the Dog Board and Train Program
We'll work with your dog to teach it all of the basic obedience skills, including:
Place command
Sit "stay"
Down "stay"
Recall: "come" or "here" when called
Heel
Crate or kennel training
Walking politely on a leash
We will also focus on correcting any behavior issues, including:
Impulse control
Waiting at thresholds
Jumping, nipping, and mouthing
Excessive barking
Proper socialization through play (if your dog is a player)
Counter-surfing
Field trips (if appropriate)
Treadmill training (if your dog is mature enough)
Follow Up Lessons
Once the 2-week training is complete, we invite all of our graduates and their owners back for 2 free follow up lessons and a month of group classes. At these lessons, we'll continue working with you and your dog on proper skills and training. You'll learn how to reinforce good behaviors and better communicate with your dog.
Is Dog Board and Train right for my dog?
This program is for dogs and owners who need to learn better boundaries, rules and structure in order to be the very best versions of themselves. If your dog has dog or human aggression issues, please look at our behavior modification training program.
Ready to join the pack or want more information? Sign up your dog today by submitting our training request form.