Dog Behavior Modification Training
3+ Week Behavior Modification Board and Train
Through our 3+ week Dog Behavior Modification Training Program, we work with aggressive dogs, reactive dogs, and dogs with other behavior problems to lay the foundation for more balanced behavior.
Our Dog Behavior Modification Program lays the foundation for a better behaved dog, focusing on correcting specific behavior issues. This includes aggressive dog training to work with dogs who lunge, growl, nip at, or bite other dogs or humans. It also includes reactive dog training for dogs who struggle with impulse control. Other behavior issues that we work with include insecure or fearful dogs, as well as:
Leash reactivity
Jumping
Running away
Mouthing
Nipping
Excessive barking
General unwanted behaviors
Have a different dog behavior issue that you'd like our thoughts on? Reach out to our team to discuss the best training program for your dog.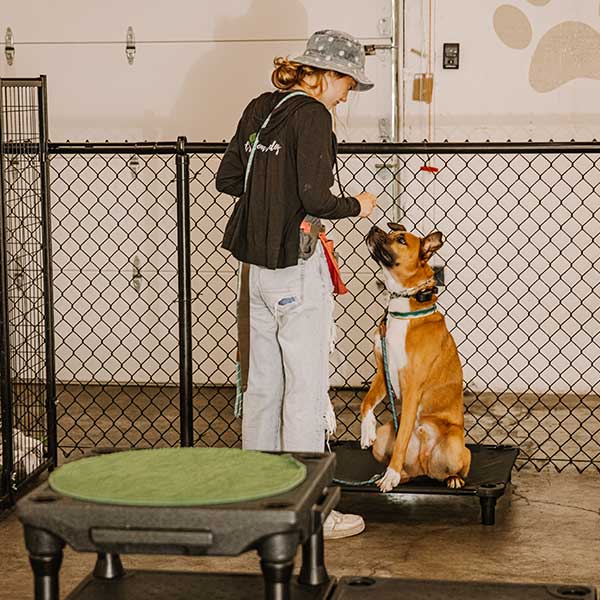 At Enzo's, we understand dog behavioral issues and meet each dog where they're at, providing them with the extra TLC and learned skills to help them succeed in their environments.
Skills Learned in the Dog BEHAVIOR MODIFICATION Program
We'll work with your dog to teach basic skills, including: 
All foundation work

Obedience

Impulse control

Calm behavior

The 3 D's: Duration, Distance, Distractions
ADDITIONAL FOCUSES
We will then focus on reinforcing these skills through additional training techniques, which may include:
Walking in public, when ready
Field trips
Threshold training
Treadmill training
Staying calm in distractions
But we know that it's not just about the dog. We teach our owners with the skills necessary to continue reinforcing the balanced behavior that your dog learns with us. You and your dog will leave with the tools and knowledge for a long and happy relationship together.
Enzo's uses e-collars as a training tool for dog behavior modification. Watch the video to learn more about e-collars and how we use them to communicate proper behaviors in your dogs and correct unwanted behaviors.
Is Dog BEHAVIOR MODIFICATION right for my dog?
This program is for dogs with behavior issues, including aggressive and reactive dogs. The dog may have "issues" with other dogs, people or select who they like or dislike. If you're not sure whether or not your dog falls into this category, we can work with you to find the right Enzo's training program for your dog.
Ready to join the pack or want more information on dog behavior modification? Submit our training request form to get the process started.